Filter Reviews
5.0 star rating

4.0 star rating

3.0 star rating

2.0 star rating

1.0 star rating
Debbie C.
5.0 star rating
Probiotic
Review by Debbie C. on 8 Jul 2020
review stating Probiotic
So far the best probiotic we have tried. My 12 yr GSD adopted very well to this product.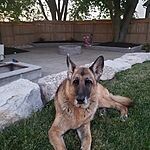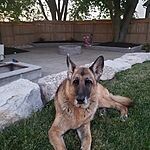 Louise G.
5.0 star rating
Dog's symptoms improved
Review by Louise G. on 15 Sep 2020
review stating Dog's symptoms improved
The order came quick. I can't be 100% certain that PROTECT fixed everything, because I am also using a salmon oil product and some natural detox drops along with it. That said, my dogs tummy, poops and skin rash have all improved greatly! I wouldn't want to stop adding it to my dog's food now as it seems likely it's helping. We are all happy with this.
Caitlin L.
5.0 star rating
Fantastic!
Review by Caitlin L. on 10 May 2020
review stating Fantastic!
First, I love the amount of product in the container. It lasts a great amount of time!

Second, I noticed a difference in my dog's stools a week after starting the these probiotics. Smaller, less smell, and consistently firm.

I'll definitely buy this again!
Comments by Store Owner on Review by Caitlin L. on 10 May 2020
Hey Caitlin!

Thank you for your glowing review! :)
Colleen C.
5.0 star rating
Natural Product
Review by Colleen C. on 7 May 2020
review stating Natural Product
I'm really happy with this product. Unlike synthetic supplements, this one is very natural and has a soft earthy consistency. I've just started using it so I'm looking forward to seeing what the results are after a few weeks but so far I really like and recommend it.
Comments by Store Owner on Review by Colleen C. on 7 May 2020
Hey Colleen!

Thank you for your glowing review!
Liliana M.
5.0 star rating
Excellent product!
Review by Liliana M. on 4 Mar 2020
review stating Excellent product!
Excellent product!
Q: I just started my small senior girl on Healthy Gut and am hoping it will help with her skin issues. Would this new Protect have been better for her? If so that is very frustrating as my jar of Healthy Gut will last awhile!
A: Hi Jennifer!
Healthy Gut is a great daily pre and probiotic to use as it contains digestive enzymes. This product aids with digestion and helps to keep your dog's gut healthy.

Protect is made by our sister company Four Leaf Rover and can be super beneficial, too! With Protect you get all of the good gut healing stuff along with tons of antioxidants. This product always works to keep the immune system strong and filters toxins from the body!

You could give it a try next time! :)
Q: How many servings per jar? (For a 100lb dog)
A: Hi Stacie!
Protect contains 30 Medium Dog Servings. The jar is 156g and you would give a 100lb dog 3tsp per day.
Q: From the description of the product, it sounds as if it doesn't need to be refrigerated. Is that correct? And if yes, what is the best before date for the current stock on sale?
A: Hi Pamela!
There is no need to refrigerate Protect at all! All products will come with a best-before date at the very bottom of the product. The shelf life can be up to 2 years.
Q: I want to start a regiment to help multiple lypomsa(30) in my 7 year old spay cocker spaniel and retriever mix.
What should I start with? Dandelion and pre and probiotics are a few recommendations
Q: My dog used to eat dirt.....could he have been looking for probiotics? He us 17 and has pancreatitis and a bleeding ulcer.
A: Hi Karen!
Protect is a very effective pre and probiotic since it is soil-based. It also helps to filter toxins from the body.