Filter Reviews
Shipping
Results
Support
Allergies
Recommend
Dog
Issues
Coat
Skin
Price
Difference
Addition
...
Colostrum
Vaccines
Paws
Change
Dose
Health
Shipping
Results
Support
...
5.0 star rating

4.0 star rating

3.0 star rating

2.0 star rating

1.0 star rating
Bovine colostrum helping allergies!
Review by Colro on 21 Sep 2020
review stating Bovine colostrum helping allergies!
We have been using the bovine colostrum for almost 2 weeks now. My doxie is scratching 85% less already. So far, I'm super impressed with this solution to his unknown allergies. Fingers crossed it's the answer we have been looking for!!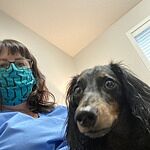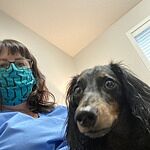 Debbie C.
5.0 star rating
My 12 yr old GSD
Review by Debbie C. on 8 Jul 2020
review stating My 12 yr old GSD
My 12 yr old GSD has seasonal allergies. This eliminates all her symptoms.
So far so good
Review by Chris T. on 28 Sep 2018
review stating So far so good
I'll admit, my review may be a little premature however here is what I have experienced so far. My dog is currently on Apoquel which runs me about $110/month. In search of something a little easier on the bank account I came across colostrum for dogs. I started giving my dog a quarter teaspoon everyday with his apoquel as I was nervous to go cold turkey. I did that for three days and then went down to to colostrum with only half a pill a day. I've done this for about 2 days so far and haven't seen any excessive itching at all. To give you some context, if I even gave my dog his apoquel 2 hours late his itching would flair up. I plan to do one more half pill today and then will finish off my apoquel at half a pill every other day until finally he is just taking colostrum.

Since starting the colostrum, I have not seen my dog this happy and energetic in probably a year. Not only that, he is shedding less and his coat is soft and shiny. He appears to be his old self again. The only down side of him feeling better is he likes to get into everything!

My dog primarily suffers from environmental allergies (we believe) and food intolerance.

I will try and write another review in a month and update on how he is doing, but so far the changes are unbelievable. I really hope it's the colostrum that has helped and not just a coincidence. I would defiantly recommend giving this product a try if your dog is suffering.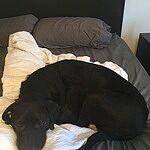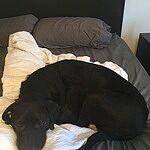 Tracey S.
5.0 star rating
Excellent product
Review by Tracey S. on 8 Jan 2018
review stating Excellent product
My dog loves Colostrum-38 K9. It is a great addition to her raw meals and other supplements. I've noticed her seeming less stiff after hard play and her coat is so beautiful. This product is also very helpful with clearing up allergies as well. Love this product!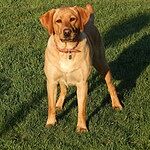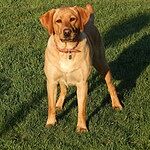 Carolyn B.
5.0 star rating
Allergies
Review by Carolyn B. on 22 Aug 2017
review stating Allergies
Guess I was looking for a miracle. My Puggle (8 mos) had Demodex when I rescued him from the Humane Society. He is now 7 yrs old and a skin allergy seems to flare up in the Fall. Normally I keep it under control but this year it got really bad. I bought the Colostrum to help build up his immune system. He eats a raw diet, cool meat, rabbit, duck, turkey and fish. Giving him VItamin C, Turmeric, Omegas, probiotics. No lawn chemicals, no heartworm or flea meds. for years, no vaccines, not even a rabies. Made a hot spot itch solution to help ease the redness. Really tried to protect him but nothing is working. From what I can tell the Colostrum is not making a difference.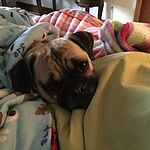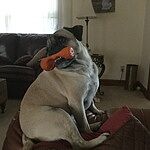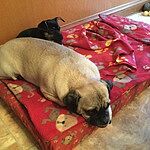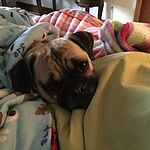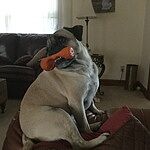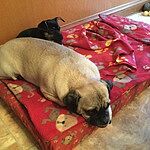 Q: My Boston Terrier, 2 tears old, Has long suffered from allergies. True case unknown. We keep him on a raw diet, he takes Apoquel in the evening, Benedryl at night and now we have added the Colostrum. We have not been able to eliminate either of the "meds" since he started taking the Colostrum 2 weeks ago. How long before you start seeing the effects? Could the colostrum not be working effectively because he is still taking the meds?
Q: Where is the original colostrum obtained? From what I understand, the colostrum is only available naturally from animals which have just given birth. What would their calf be getting?
Q: Is the Scoop Provided in the jar a whole Teaspoon? I need to use 1/4 tsp per day but not sure what the scoop provided is.
A: Hi Karen, yes the 1/4 tsp scoop is provided. :)
Q: I'm curious...is this something you would end up giving to your dogs for their lifetime? Or is this a short term fix? Both our dogs have allergies. Unknown what the root cause is.
A: Hi there, I have been giving Colostrum to my dog for the past 4 months and it has helped her a lot. :) You can give Colostrum always or switch it up. I usually recommend switching it up but it won't hurt to do either. If it helps, why stop? :) Don't hesitate to contact us back with any further questions you have at
market@dogsnaturallymagazine.com
.
Q: Is this also helpful with dogs with IBS or Colitis, i have read a lot of reviews for allergies but didn't see much for dogs with other problems.